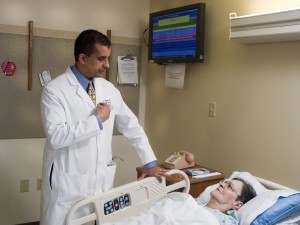 Star Trek at Bedside
Imagine a hospital room, which recognizes doctors and nurses as they enter. Their name flashes on a flat panel screen for the patient and family to see. At the same time, a second monitor, shows the clinician exactly what they need to know at that moment to care for the patient. Information displayed includes: medication due, patient's vital signs, and allergies. Does this sound like futuristic technology too good to be true? Well, it is not.
The smart room idea has already been developed and tested at the University of Pittsburgh Medical Center(UPMC). They have been testing this since early October at their Shadyside campus. The idea for the Smart Room came about two years ago when a UPMC nurse wearing latex gloves unknowingly went to place an IV in a patient with a latex allergy, causing an allergic reaction
Effective Technology
According to the UPMC , the system uses ultrasound tracking to identify the clinicians that might come to advance the care process for a patient. Each worker is assigned a unique tag—smaller than a pager—that emits ultrasonic sound waves, when the person wearing the tag first enters the Smart Room. The ultrasound detector in the room reads the tag and identifies the caregiver by name and job title, displaying the information on a flat-screen monitor at the foot of the patient's bed. When a caregiver leaves the room, the information disappears from the screen. In this pilot phase, tags have been assigned to doctors, nurses, nursing assistants, phlebotomists and dietary hosts and hostesses.
Benefits
The biggest benefit of this innovation is in helping improve patient safety. Patient identification is a key factor in the care process and numerous errors can result from not verifying patient id. Smart rooms can help minimize that. In addition medication errors can be greatly reduced. Less obvious benefits can include, improving workflow and minimizing redundancy. The amount of time wasted in communication between care givers to gather information can also be impacted with this system.
**Picture courtesy UPMC media kit